Millennium Diplomats Golf Link Sector 110, Gurgaon can be an excellent decision. The apartments in DIPLOMATS GOLF LINK affordable housing project sector 110 Gurugram has been curated with attention to detail to match your luxurious lifestyle.
WHY RESIDE IN DIPLOMATS GOLF LINK SECTOR 110, GURGAON?
If you are looking for a perfect dwelling hub in Gurgaon, then residing in Millennium Diplomats Golf Link Sector 110, Gurgaon can be a prudent decision. The RCC framed structure promises durable construction. The lush greeneries will serve as an eye tonic and will help to melt your stress like magic. The amazingly designed architecture will be a good match for your lavish interiors, and the gated complex and CCTV surveillance will ensure your safety.
Project Details
Total 10.25 acres of Land
Total 1445 Flats
License No. 100 of 2019 Dated 05.09.2019, File Id- LC 3738
Rera no. – 33 of 2021 dated- 10/08/2021
Developer Name : Millennium Diplomats Pvt. Ltd.
Project Name – Diplomats Golf Link
90% home loan available from all the major banks
Modern architecture Apartments
Earthquake resistant building
Get subsidy under PM Awas Yojana
Apartment Type – 1BHK/ 2BHK / 3BHK
Online Application Start Date:15-09-2021 & 00:01:00 AM
Online Application End Date & Time:10-10-2021 & 23:59:00 PM
Proposed Draw Date & Time: 31-10-2021 & 11:00AM
Proposed Possession Date – 4 Years – (September -2025)
Get Full Details Of Millennium Diplomats Golf Link Sector 110 Gurgaon Like Launching Date, Application Forms, Site Plan, Price List, Location Map, Floor Plans, Brochure, Payment Plan, Launching Date, Draw Result Date, Reviews, Feedback, Possession Time, Specifications & Related Amenities Etc….. Please Put Your Query, 
Sector 110 Gurgaon Google location –
LOCATION MERITS:
By residing in Sector 110, Gurgaon, you can enjoy excellent road connectivity with NH-8, Dwarka Expressway & Pataudi Road. The vicinity of has the presence of reputed schools, shopping plazas, and hospitals. You can find numerous employment hubs in the proximity of the project. The area boasts the presence of reputed companies in different sectors.
Hence residing in DIPLOMATS affordable housing Sector 110, Gurgaon can be an excellent choice for the 21st century home seekers. The best part is that booking your dream project in Sector 110 Gurgaon will not cost you an arm and a leg and will come within your budget. Book your apartment now to get a combination of the finest amenities along with a modern lifestyle.
Amenities
Provision for Car parking
60% Open Space
Yoga and meditation area.
Outdoor Gym.
CCTV observation for security.
Kids play area.
Community centre.
Reflexology garden.
Multipurpose hall.
Creche cum aganwadi.
Retail market shops.
Jogging Track.
Senior Citizen Sitting.
Price List of the flats
TYPE
Type of Flat
Size of Flat

(in Sq Ft)

Balcony Area

(in Sq Ft)

Cost of

Flat

Cost of Balcony Area

 

Total

Cost 

Number of

 Flats

Booking Amount 5% (INR)
TYPE – I
1 BHK
398
100
   1,592,000
         50,000
   1,642,000
8
      79,600
TYPE – II
1 BHK
382
101
   1,528,000
         50,000
   1,578,000
8
      76,400
TYPE – III
1 BHK
390
100
   1,560,000
         50,000
   1,610,000
4
      78,000
TYPE – IV
1 BHK
399
101
   1,596,000
         50,000
   1,646,000
12
      79,800
TYPE – V
1 BHK
417
100
   1,668,000
         50,000
   1,718,000
1
      83,400
TYPE – VI
1 BHK
419
86
   1,676,000
         50,000
   1,726,000
8
      83,800
TYPE – I
2 BHK
543
101
   2,172,000
         50,000
   2,222,000
34
    108,600
TYPE – II
2 BHK
527
100
   2,108,000
         50,000
   2,158,000
1
    105,400
TYPE – III
2 BHK
522
75
   2,088,000
         50,000
   2,138,000
152
    104,400
TYPE – IV
2 BHK
512
101
   2,048,000
         50,000
   2,098,000
18
    102,400
TYPE – V
2 BHK
538
112
   2,152,000
         50,000
   2,202,000
18
    107,600
TYPE – VI
2 BHK
548
117
   2,192,000
         50,000
   2,242,000
152
    109,600
TYPE – VII
2 BHK
565
109
   2,260,000
         50,000
   2,310,000
36
    113,000
TYPE- VIII
2 BHK
565
86
   2,260,000
         50,000
   2,310,000
16
    113,000
TYPE – IX
2 BHK
561
102
   2,244,000
         50,000
   2,294,000
39
    112,200
TYPE – X
2 BHK
561
102
   2,244,000
         50,000
   2,294,000
18
    112,200
TYPE – I
3BHK
638
100
   2,552,000
         50,000
   2,602,000
211
    127,600
TYPE – II
3BHK
641
100
   2,564,000
         50,000
   2,614,000
208
    128,200
TYPE – III
3BHK
645
100
   2,580,000
         50,000
   2,630,000
165
    129,000
TYPE – IV
3BHK
646
112
   2,584,000
         50,000
   2,634,000
129
    129,200
TYPE – V
3BHK
604
94
   2,416,000
         50,000
   2,466,000
57
    120,800
TYPE – VI
3BHK
646
102
   2,584,000
         50,000
   2,634,000
150
    129,200
IGBC APPROVAL CERTIFICATE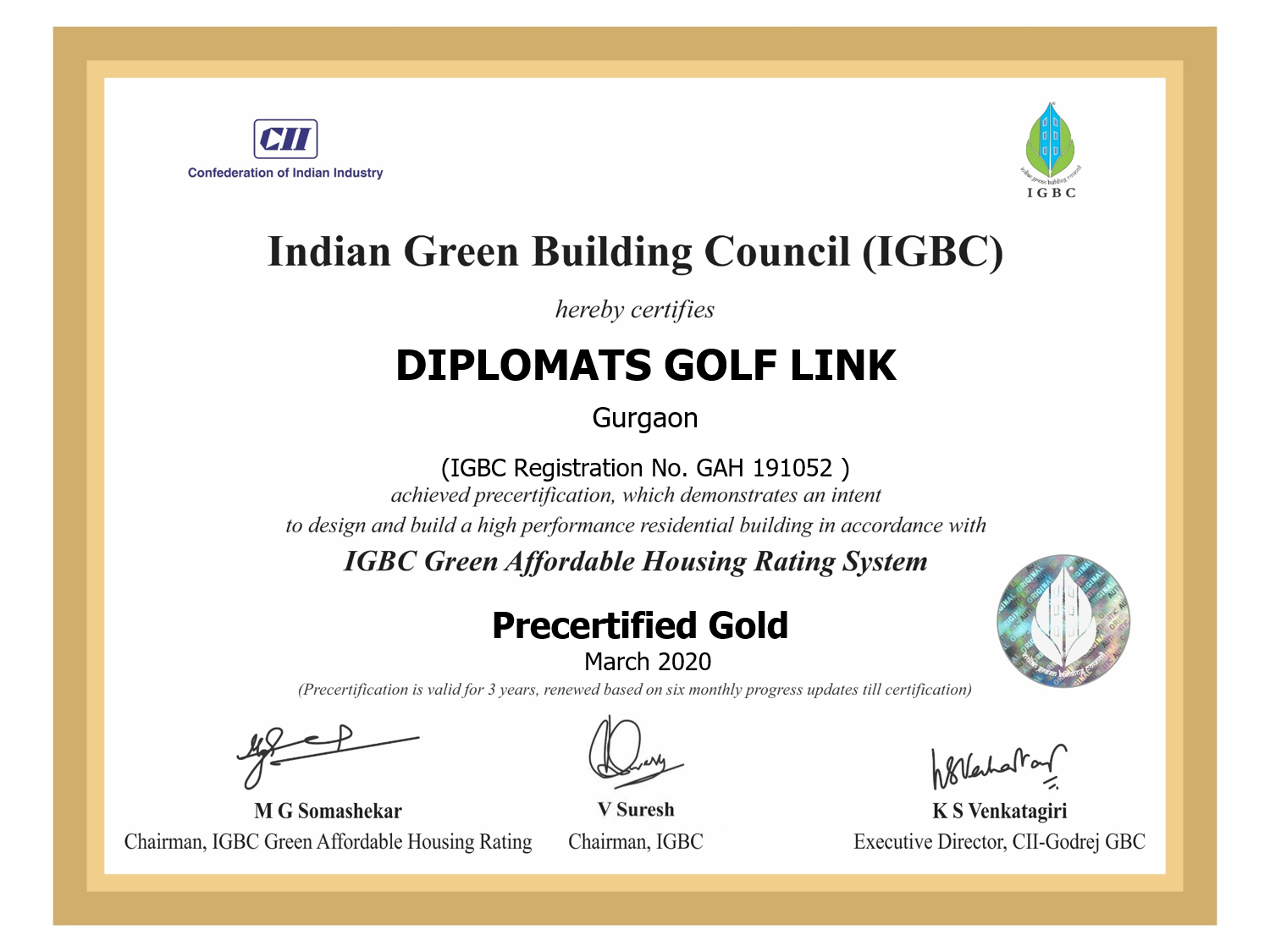 Online Presentation for Diplomats Golf Link sector 110 Dwarka Expressway Gurgaon